'Parks and Recreation' Season 5 Steals Julia Louis-Dreyfus's Husband for Mysterious New Role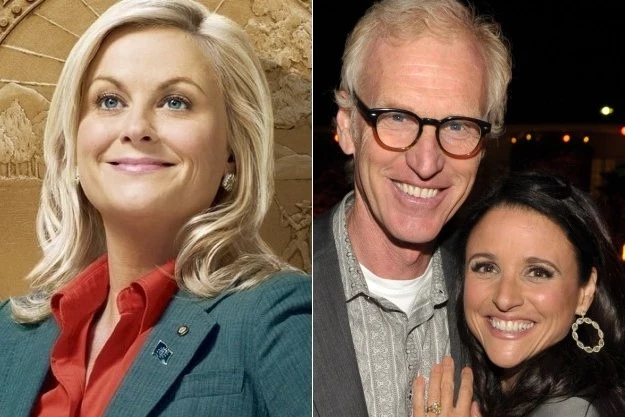 We thought about making a joke about how 'Parks and Recreation's Amy Poehler stealing Julia Louis-Dreyfus' husband Brad Hall might have been what caused the split between her and Will Arnett, but then we just got sad. Then we tried to make it into a joke about Julia stealing Amy's Emmy for Outstanding Female Lead, but then we just got sad about her and Will Arnett again. But anyway, Brad Hall is going to be on 'Parks and Recreation,' or whatever.Â
Though the 'Veep' herself will not appear (yet), Julia Louis-Dreyfus' husband and writer Brad Hall has been tapped to appear in 'Parks and Recreation' season 5, according to TVLine. Appearing sometime in mid-November, Hall will appear as Eagleton architect Wreston Sarnoff, a "well-dressed, talented and exceptionally gracious" man who offers to design a new park for the town, a suspicious venture by Leslie's judgement given their rival's history of pranking.
Apart from Hall and a returning Kathryn Hahn, 'Parks and Recreation' season 5 includes guest appearances from 'Breaking Bad's Jonathan Banks and Glenn Headly as Ben's parents, Lucy Lawless as a new love interest for Ron Swanson, while current 'House of Lies' lead Ben Schwartz will reprise his role as hipster "Jean-Ralphio" for at least one episode.
Don't forget to catch Lucy Lawless' first appearance this Thursday, and keep an eye out for more 'Parks and Recreation' guest stars as the season goes on!
Source:
'Parks and Recreation' Season 5 Steals Julia Louis-Dreyfus's Husband for Mysterious New Role